On December 23rd, The 2022 fourth batch of High-tech Enterprises list of Jiangsu Province is officially announced, Suzhou Digauto Intelligent Automobile Technology Co.,Ltd is listing among them!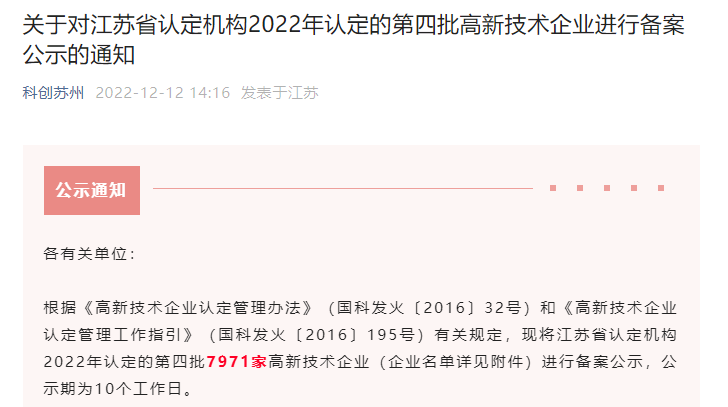 High-tech Enterprises refer to the resident enterprises that continuously carry out research, development and transformation of technological achievements within the scope of "National Key High-tech Fields" promulgated by the State, form core independent intellectual properties of enterprises, and carry out business activities on this basis; and are knowledge-intensive and technology-intensive economic entities.
Suzhou Digauto Intelligent Automobile Technology Co., Ltd. is a subsidiary of Shanghai Digauto Automobile Technology Co., Ltd. with independent research and development intellectual properties; the company is mainly engaged in the research and development of Intelligent Connected Vehicle testing technology and high-performance test equipment innovation, and is capable of providing solutions and services for ADAS and Autonomous Driving performance testing and verification. Suzhou Digauto has the world's first self-developed eleven-degree-of-freedom vehicle load motion platform, which enables VUT to realize longitudinal acceleration and deceleration, lane change overtaking and body vibration functions in indoor laboratory. Compared with similar experimental platforms in the world, the solution increases lane change overtaking and body vibration functions of the test vehicle, and records a maximum of 0.7g lateral acceleration rate and world leading class in major performance indicators, so it supports over 10,000 complex and dangerous test scenarios. The test product fills the market blank and has successfully declared a number of domestic invention patents, U.S. and European PCT invention patents.

Innovation is the driving force of a company's development. Since establishment, Digauto has been steadfastly walking on the road of independent R&D and innovation development, and has become the leader of intelligent vehicle safety testing technology through innovative technology research and development. The honor of "High-tech Enterprise" once again verifies the strong technology research strength of Digauto, but also inspires the company to keep climbing in intelligent vehicle safety testing innovations !